Koh Samui and its beaches
White sand, crystal clear water and fresh coconuts.
Koh Samui has the potential to become your tropical dream.
With Koh Samui being one of the top tourist destinations in Thailand, you unfortunately can't expect completely undisturbed beaches.
Nonetheless, there are are plenty of beautiful beaches around the island!
In our opinion, the beaches are the main reason to visit Koh Samui.
We stayed at Koh Samui for one and a half months in January 2019 to work on our documentary film about sustainable coffee.
While we lived there we got to explore the many gorgeous beaches.
Here are the 8 best ones.
Silver Beach
South of popular Chaweng and north of Lamai, you'll find this hidden little beach.
Silver Beach, or Crystal Bay as it's called as well, has pure white sand and clear water.
It's much smaller than most other beaches on the island, which helps to give it a very peaceful atmosphere.
There are large rocks on each end, which are great for photos and add to Silver Beach' allure.
We spent a lovely morning here and can definitely recommend it.
The water is at its most azure in the middle of the day.
Pros: Absolutely beautiful. Pretty quiet. Great for swimming and snorkelling.
Cons: Can be difficult to find.
Read more about where to stay at Silver Beach here.





Maenam Beach
Maenam is a really long beach on the north side of the island.
Most of the development is on the eastern part. The western half is a lot more secluded and only features scattered resorts and restaurants.
Maenam Beach is great for long walks – but beware of the fishermen's lines in the early morning and late evening.
The street leading down to the beach has charming wooden Chinese shop houses built side by side. There are lots of cafés, restaurants and shops.
Pros: Quiet and secluded.
Cons: Tidal.
Read more about where to stay in Maenam here.


Choeng Mon Beach
Choeng Mon Beach isn't a place you'll randomly stumble into as public access is limited.
Therefore mainly frequented by holidaymakers staying at the resorts, the vibe here is different to some of Koh Samui's other beaches.
It seems to be particularly popular with European travellers.
The sand is white and the waters very suitable for swimming.
At the eastern tip are the two small islands Ko Fan Noi and Ko Fan Yai; only accessible by foot at low tide.
Pros: Great for swimming.
Cons: Acces to the beach is limited. More expensive than other beaches.
Read more about where to stay in Choeng Mon here.


Lipa Noi Beach
Lipa Noi Beach is situated on the west coast of the island.
It's definitely one of the island's less visited beaches and you can easily find a private spot.
Walking away from the resorts in the middle part, you'll meet more dogs and local people than tourists.
During our stay with Lipa Lodge, we got to experience the gorgeous sunsets of the Lipa Noi Beach!
Pros: Gorgeous sunsets. Quiet and secluded. Very few people.
Cons: Far away from dining options and attractions.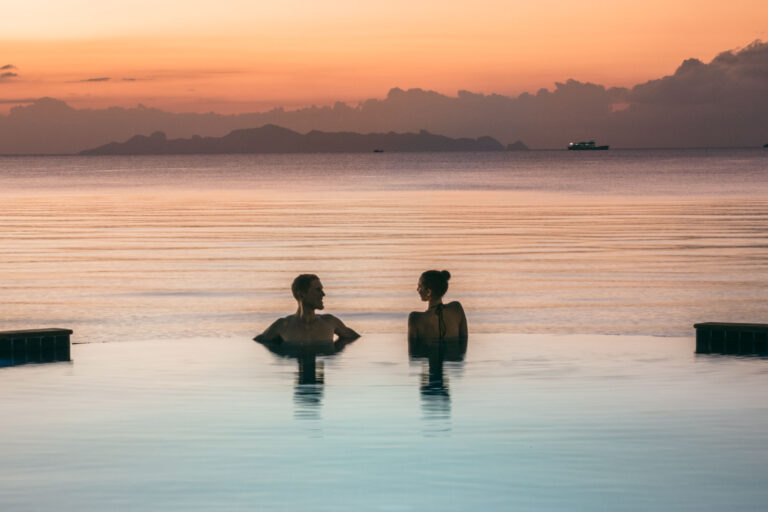 Taling Ngam Beach
The Taling Ngam area of Koh Samui on the southwestern corner is about as remote as you can get on Koh Samui's exterior.
With 30 minutes of driving to Nathon and almost an hour to Chaweng, you'll be far from the action – but never too far, should you need the facilities.
The coast is splendid with the added bonus of views on clear days to the islands of the Ang Thong National Marine Park in the distance.
Pros: Absolutely beautiful. Gorgeous sunsets.
Cons: Not the best for swimming. Far away from many dining options.
Read more about where to stay in Taling Ngam here.



Chaweng Beach
This is where the action happens.
The most developed and touristy beach is Chaweng Beach on the east coast of the island.
The huge beach is beautiful with soft sand and there's plenty of room to find a great spot to lay on the sand or rent a sunbed.
resorts, restaurants, snack bars, souvenir shops and all kinds of activities.
The southern part of Chaweng is quieter than the north.
Pros: Great for swimming. Many restaurants to choose from. Busy nightlife. A variety of watersports.
Cons: Very touristic. Noisy nightlife. Watersports take up much of the beach.
Read more about where to stay in Chaweng here.




Lamai Beach
The second most popular beach is Lamai Beach south of Chaweng.
Here you'll also find lots of hotels, restaurants and bars lined next to each other on the beach, but it's a little less crowded than Chaweng Beach.
Pros: More calm than Chaweng. Great for swimming. Many restaurants to choose from.
Cons: Very touristic.
Read more about where to stay in Lamai here.



Bophut Beach
Bophut Beach is a more quiet beach with a calm atmosphere on the northern part of Koh Samui, although it's not one of the most isolated beaches.
The stretch of sand is wide and the western part is a good swimming beach with an up-market feeling.
In the east, the sand and water aren't as good, but it's closer to the restaurants and shops at Fisherman's Village.
Pros: Fisherman's Village for shopping and eating.
Cons: Eastern part isn't good for swimming.
Read more about where to stay in Bophut here.


Map of the beaches
At the middle of the eastern shores you can find the two most popular beaches Chaweng and Lamai.
The rest of Koh Samui's beaches are more or less scattered around the whole island.
Click the icon in the top left corner of the map to find the beaches we have mentioned in this guide plus attractions, the best restaurants and much more.
Minimise your impact
To minimise your impact on Koh Samui's beaches, follow these guidelines:
Bring your own drinking water in a refillable bottle.
Avoid single-use plastics, including straws.
Dispose of waste properly. While putting your trash in a nearby trashcan is convenient, wrappers and other small items are prone to get taken by the wind and end up in the ocean.
Check your sunscreen. Many brands contain oxybenzone and other chemicals that are harmful to corals.
Take only photos, leave only footprints. Let shells and corals stay in their natural home.
Be considerate of other visitors.
Respect wildlife.

Thanks for reading

Are you ready to head to the beach?

We certainly are!

If you've already visited Koh Samui, we would love to hear which beach was your favourite in the comments.

And if you plan on going, let us know which one you are looking forward to visit the most.



Our favourite travel resources:
Our camera gear: